The Process, easy as 1, 2, 3
+34 618 806 989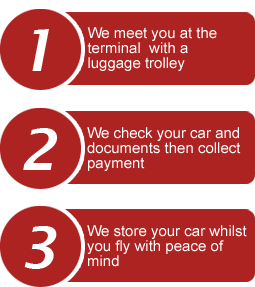 How our simple process works at RMU Corvera Airport with Airpark Murcia
Flight Departure from RMU Corvera
At the time agreed we will meet you to collect your vehicle at RMU Corvera Airport.
We collect your vehicle from you at the 5 minute drop off zone, which is located in front of the terminal between the Arrival/Departure hall doors. We will be there to meet you in our recognisable pale blue shirt with the Air Park Murcia logo.
After a quick vehicle damage inspection and check of documents, we will confirm/arrange payment against an official receipt, you hand over the keys and we take the vehicle to our secure compound only a few minutes away.
Arrival back at RMU Corvera
Upon your flight arrival back, we will have a member of our team waiting with your vehicle at exactly the same spot you dropped it off waiting to greet you wearing our pale blue shirt with logo.